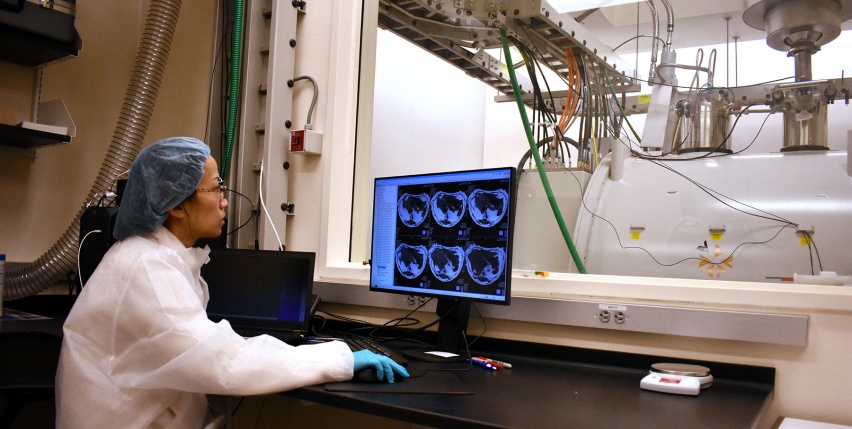 Welcome to the Preclinical Imaging and Testing Facility, part of the Preclinical Modeling, Imaging & Testing Core (PMIT) at the Koch Institute. The Preclinical Imaging and Testing Facility and the Preclinical Modeling Facility work very closely together to accelerate translation of laboratory discoveries toward clinical implementation for patients. The PMIT Core combines the expertise and instrumentation to facilitate the generation and high-resolution characterization of disease models, to assist investigations of the mechanisms of disease development, to enable the evaluations of drug efficacy and resistance, and to provide the means for testing novel strategies and devices for disease detection and drug delivery. The PMIT Core's mission is to streamline the path from the development of new therapeutic, diagnostic and basic discovery biomedical tools at the bench to their evaluation within a valid biological system.

The Preclinical Imaging and Testing Facility provides training and access to instrumentation for in vivo, whole animal imaging, including:
Bioluminescence and fluorescence imaging
Ultrasound and photoacoustic imaging
Magnetic resonance imaging (MRI)
Positron emission tomography (PET)
X-ray micro-computerized tomography (microCT)
Cryo-fluorescence tomography (CFT)
In addition, the Facility provides assistance with design, approval, and execution of pilot studies and preclinical trials, to assist and accelerate the process of moving scientific breakthroughs from the research bench to the clinic. Our goal is to support and encourage translational efforts using refined animal models of disease to test:
Chemotherapeutic response and drug resistance
Biosensors for tumor detection and monitoring
Diagnostic assays
Cancer vaccines
Drug delivery systems and tumor-targeted modalities
Access is available to all members of the MIT community, to the extent permitted by available capacity. Priority access is given to KI members and NCI-funded research projects in recognition of funding support. In special circumstances, access may be available to non-MIT users (details available on request from Facility Scientific Director Virginia Spanoudaki).